This Christmas, we're supporting Christians Against Poverty (CAP) to provide 55 hampers for families they have supported this year.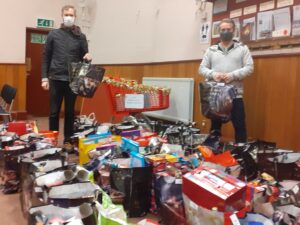 CAP offers a free in-depth debt counselling service in our local community. Their trained debt counsellors help families work out realistic budgets, prioritise essential bills, and negotiate affordable payments with creditors. If debts are severe, CAP can also advise on insolvency options, and will assist in filling out appropriate forms. Support is provided by CAP from the initial appointment until the family is debt free.
CAP will support anyone, regardless of their religious beliefs. They are committed to their service being available to all individuals regardless of age, disability, race, gender or sexual orientation.
YMCA Crewe has referred people to access the services of CAP for debt management and support, and our Chief Executive Mark Hills feels this year it is more important than ever to support their work:
YMCA Crewe is part of the world's oldest and largest youth charity founded more than 175 years ago, and now represented in over 120 countries. After the events of the past year, it feels more important than ever to support, and be a part of the community of Crewe. Therefore we are working in partnership and collaboratively with Christians against Poverty to support the local community and people of Crewe.
If you think CAP may be able to support you with your financial situation, you can call them on Freephone 0800 328 0006 to arrange an initial appointment.